By Cahlen —
Today on The Wizard Life I will be sharing how I fund my nomadic adventures in the southwest deserts of the United States using the Steem cryptocurrency.
As many of you know, I quit my job as a Producer in the Video Game Industry a few months ago to
live in my truck
. While this lifestyle greatly reduces my expenses, there are still a few things I need to pay for (e.g. gas, food, mobile phone, etc.) so I do need a little income. I'm a
Certified Human Potential Coach
which provides some of that income, but at the moment most of what I need is actually provided by earning Steem through various social media platforms.
What Is Steem?
Steem is a Cryptocurrency similar to Bitcoin which also stores the textual information used to generate web pages and posts like this one (e.g. HTML, Markdown). This data is decentralized which means it is held on many computers all over the world, rather than on one server, which makes it resistant to censorship.
There is a lot to be known about Steem, but to put it most simply, it serves as the backbone of social media platforms which reward you with the Steem cryptocurrency for generating content which the community appreciates. Think of it like Facebook or YouTube where when someone 'Likes' your post you make money!
Let's take a look at some of the platforms built on top of the Steem Blockchain so far...
Facebook Alternatives
The first class of platforms built using Steem are what I think of as the Facebook alternatives in that they allow you to share Posts containing a wide array of content types (e.g. Text, Images, Videos, Music, etc.).
Steemit.com
runs in a Web Browser and was the first major platform to appear, so people often confuse it for Steem itself. It's owned and maintained by the same folks who originally built the Steem Blockchain, which seems to add to the confusion. Here's a look at my Blog when viewed from Steemit: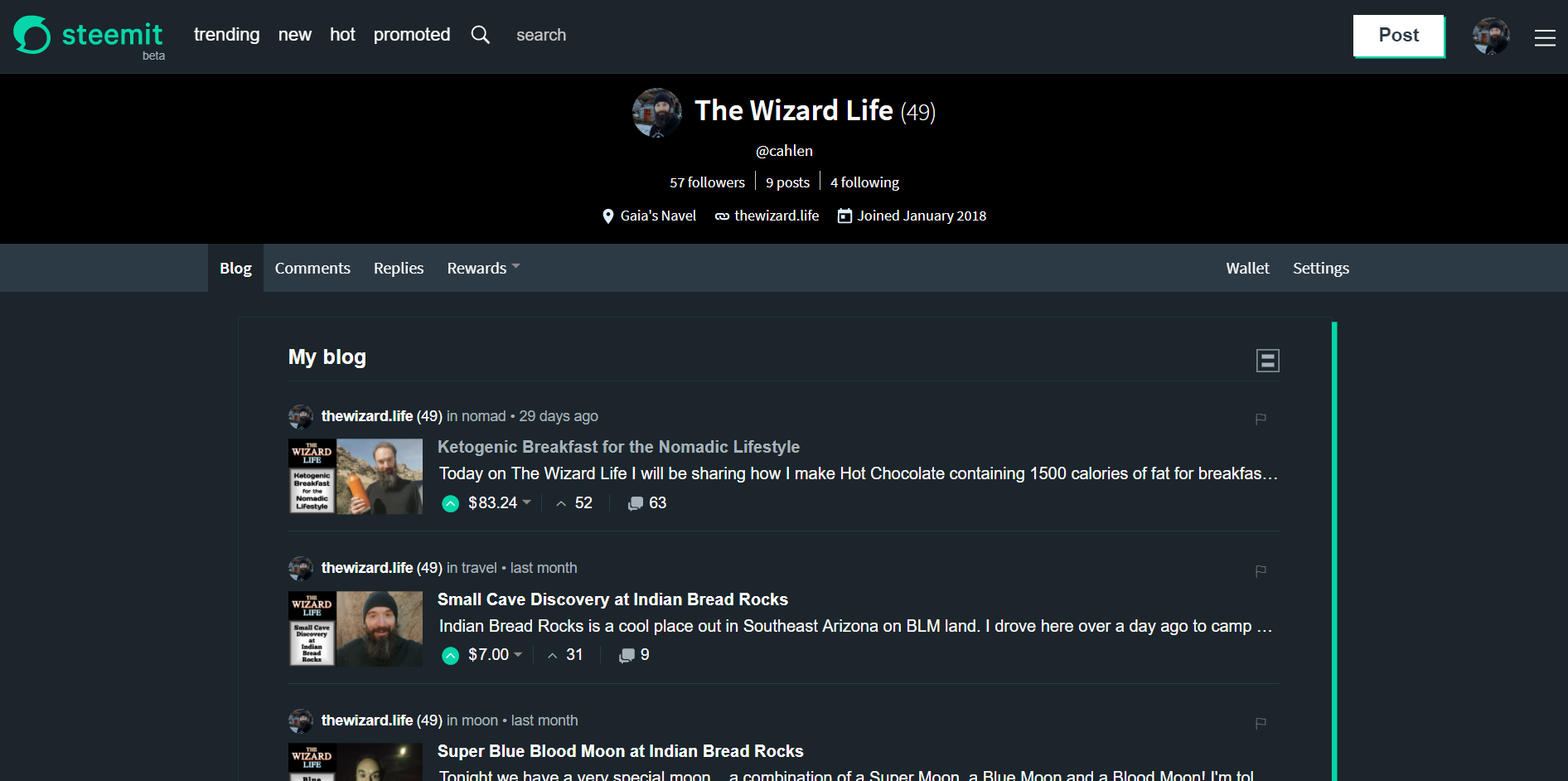 Busy.org
is an alternative which has a slightly different layout and some features you won't find on Steemit. While it got a later start than Steemit, it seems to be more actively maintained and updated so I suspect it will overtake Steemit in popularity in the future. Here's a look at the same Blog viewed via Busy: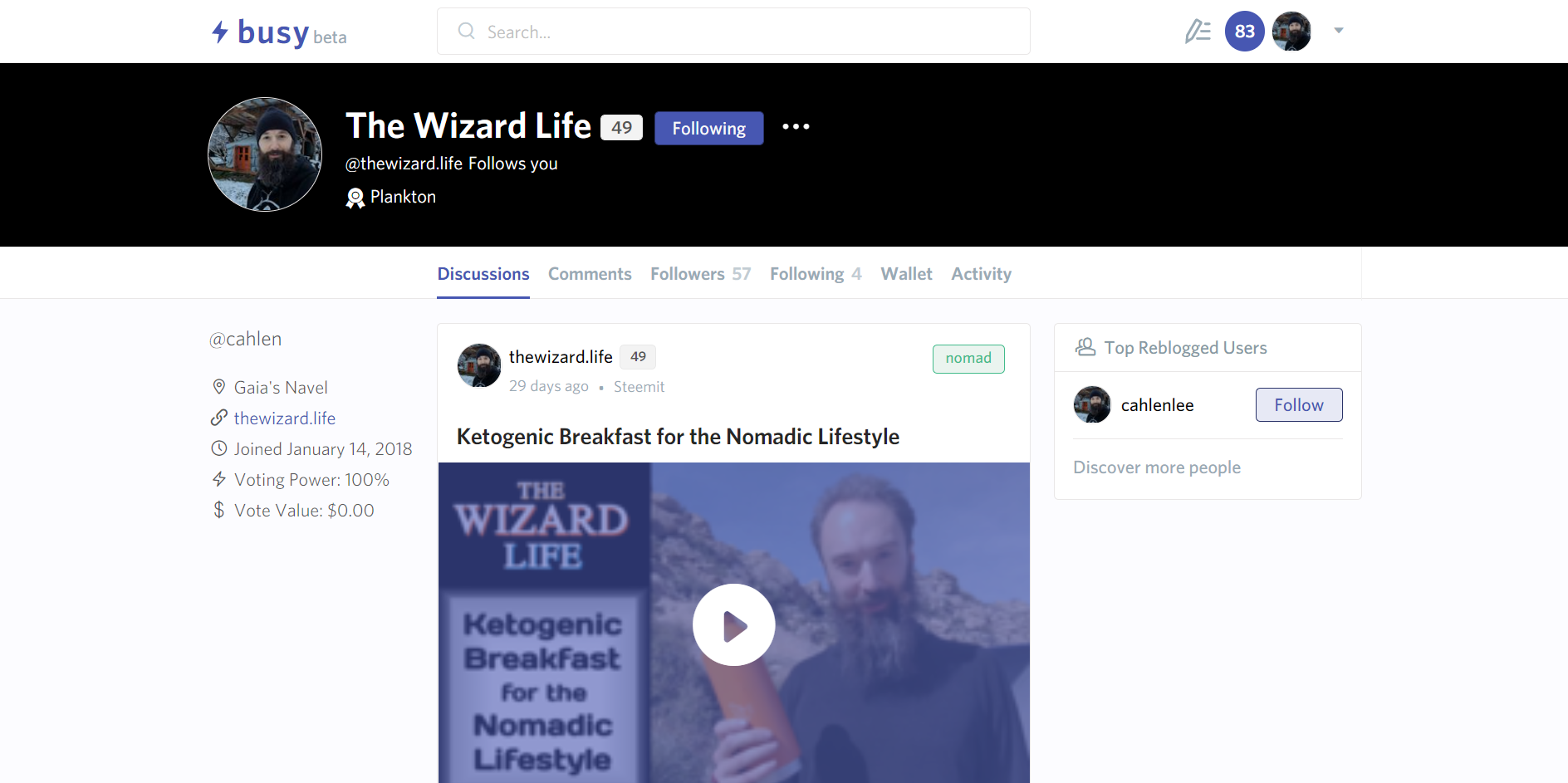 eSteem is an
Android
and
iOS App
which does the same thing as Steemit and Busy. It has some pretty cool features you won't find on the other platforms, so I recommend checking it out if you prefer to use your mobile device. Here's a look at what the same Blog looks like on eSteem: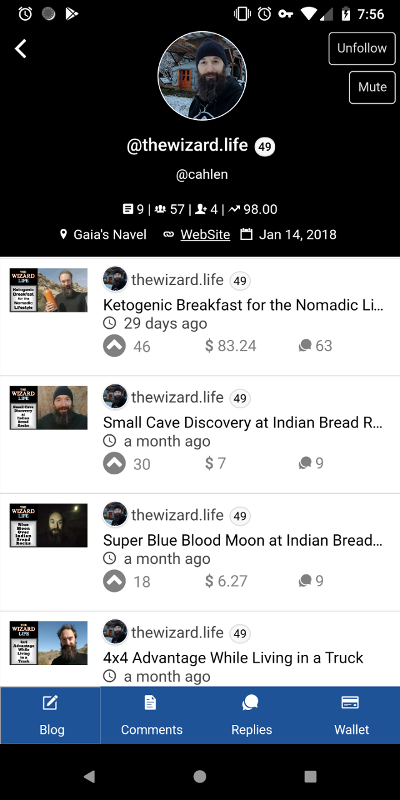 YouTube Alternatives
In a time where almost all video content comes from a single source who has demonstrated its willingness to silence those with whom it does not agree, decentralized video platforms like DTube and DLive are desperately needed. Echo chambers of opinion are exceedingly dangerous because they give their occupants the impression there are no dissenting opinions even though they might have been sympathetic to those contrary views.
DTube
is a decentralized video hosting platform. It stores the actual video files on the InterPlanetary File System (IPFS) which is a decentralized alternative to HTTP. Once a video file is uploaded through DTube it cannot be taken down and can still be accessed even if the DTube website goes offline. It was created by
@heimindanger
and has come an incredibly long way in a very short amount of time, and I suspect it will come close to competing with YouTube in terms of its feature set very soon.
Here's a look at what my Steem profile looks like when viewed from DTube: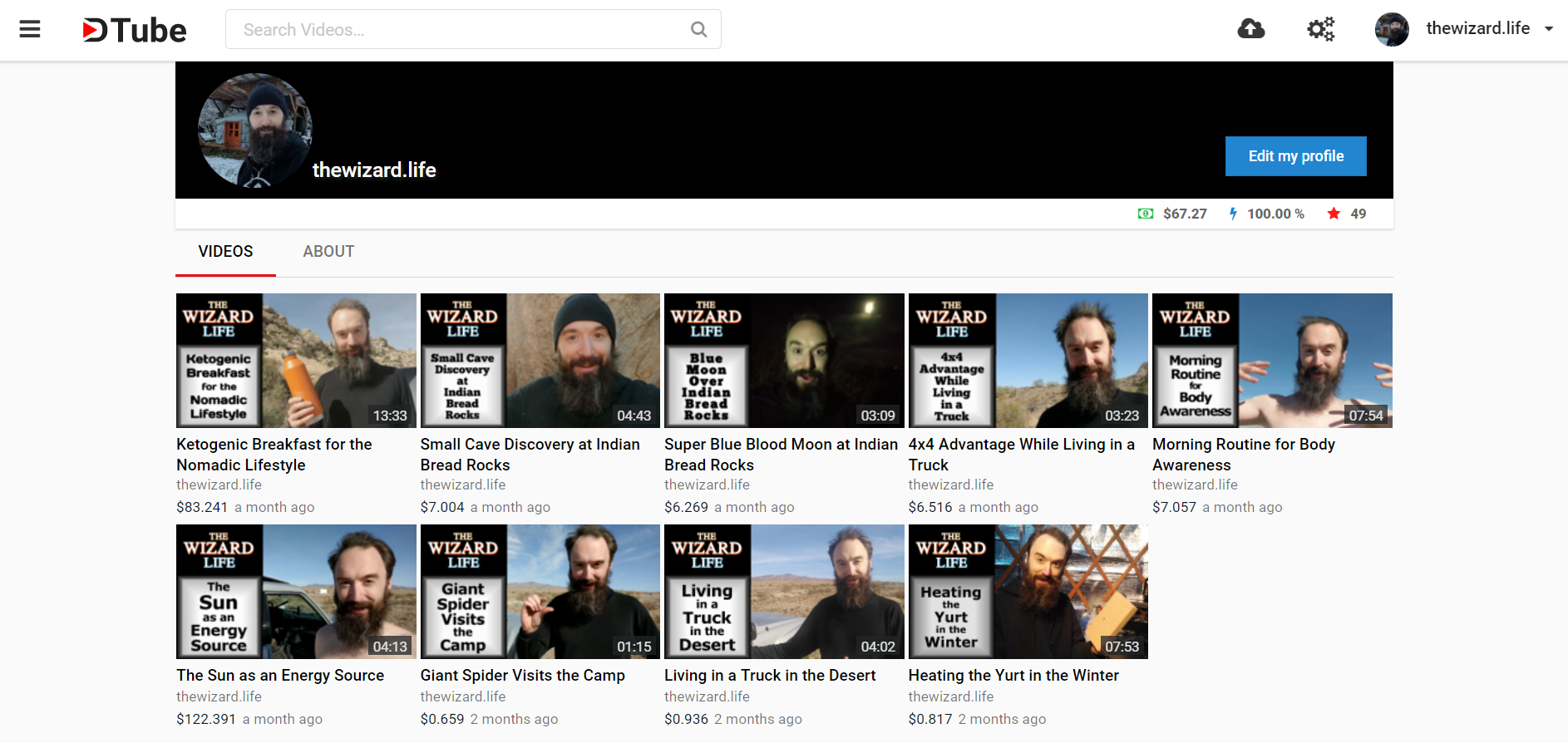 DLive
is a platform which allows users to host live video feeds through the Steem Blockchain. Like DTube, it also has come a long way very quickly. I believe it is currently underutilized and is a potential gold mine for folks who know how to host high quality shows.
Here's a peek at the homepage: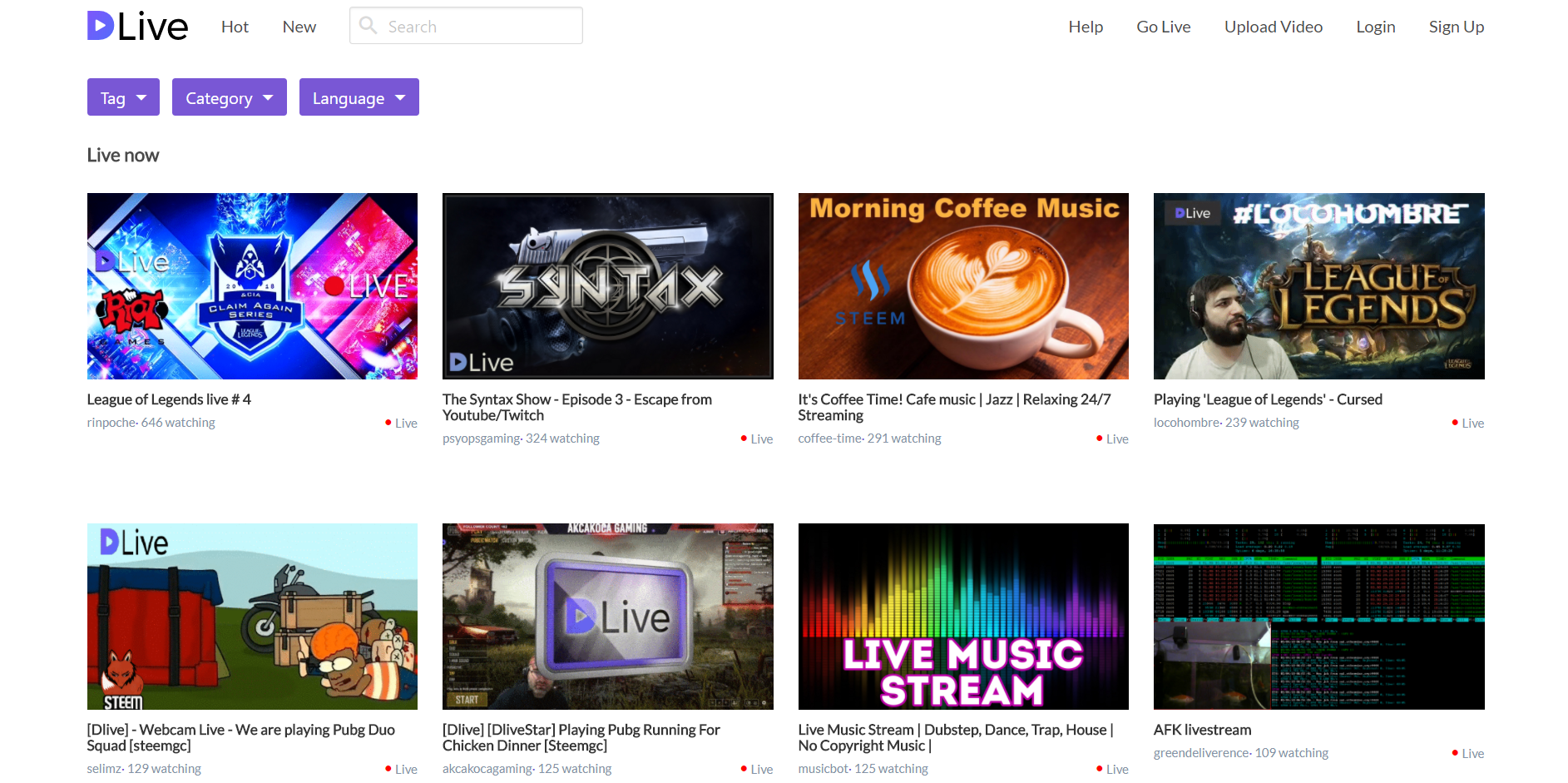 As you can see, it's mostly streams of folks playing video games or music. Lots of room for improvement... get in while the gettins good!
Novel Platforms
Steem isn't limited to platforms which replace existing private services like Facebook and YouTube. Anything which involves rewarding users for generating content could work on the blockchain. One innovative platform which has taken Steem by storm is called
Utopian-IO
. It rewards users for contributing to Open Source projects.
Open Source means that you can read the code of the application you are using. This means you can make sure it's not doing anything you don't want it to, like sending your information to undesirable locations. It also means that you can duplicate the code and customize it to your needs! Open Source software is also free...
Open Source software has been historically supported out of the goodness of people's hearts who believe in the importance of transparency and accessibility. This limits its ability to compete with applications created by corporations because everyone's time is limited and everyone needs to earn a living. Utopian steps in to solve this problem by rewarding contributions to projects with very large upvotes.
There are lots of ways to contribute, and I focus primarily on reporting Bugs or functionality issues in the software. Here's a look at some of the bugs I've written and the rewards I've received for them: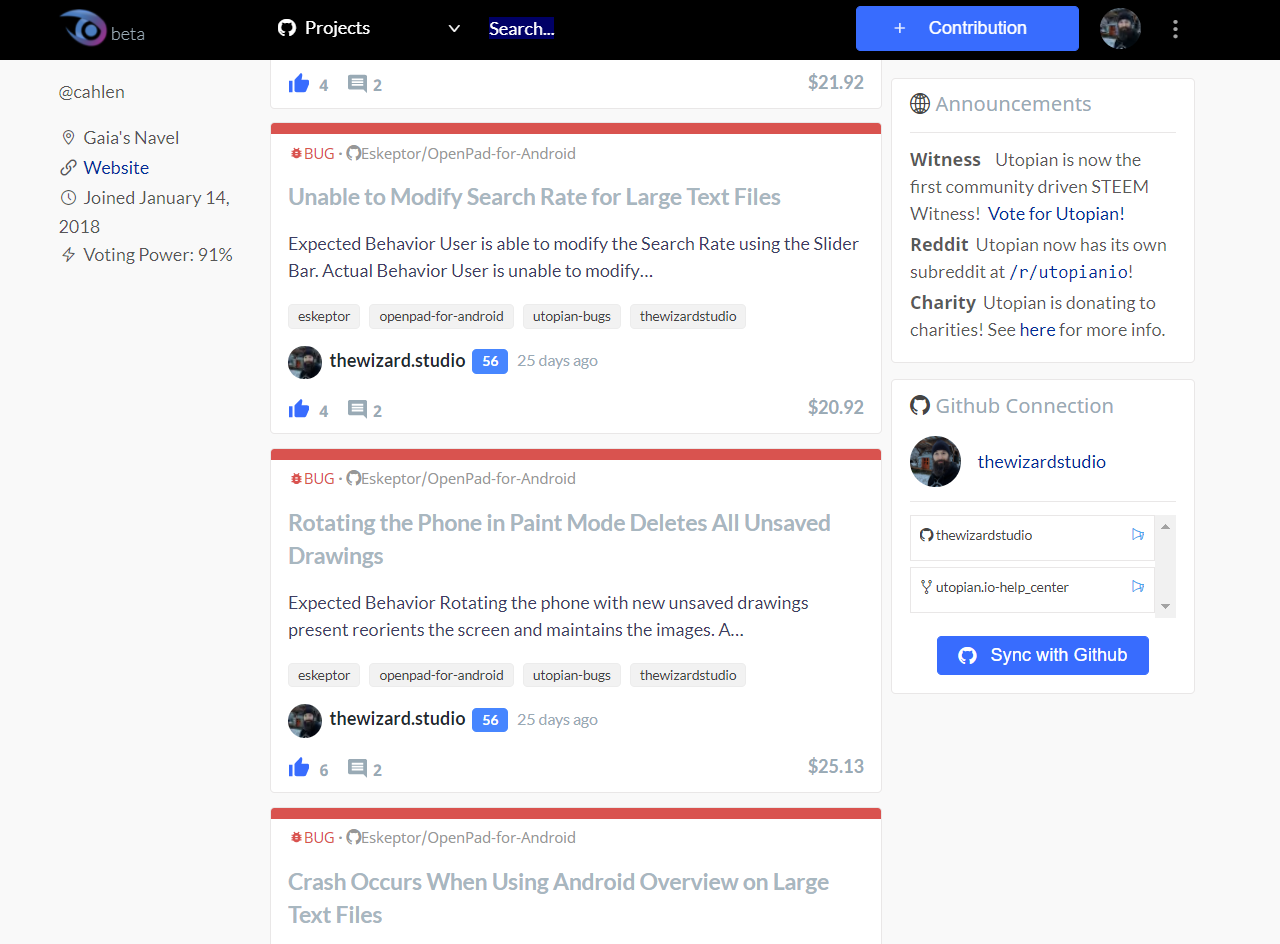 You can also contribute by writing code, generating visual content, writing tutorials, translating text and more! This is where most of my income comes from. It's enough for me to live on in the United States, so just imagine how much this benefits people in less developed countries! It's hard to understate the potential for Utopian-IO to change the world for the better.
Other Platforms
There are new platforms built on the Steem Blockchain appearing all the time. There's an alternative to Instagram called
Steepshot
, an alternative to Twitter called
Zappl
, a SoundClound alternative called
DSound
... and more! It's certainly a very exciting time, and we're still early in the development of all of this.
How to Join
If you're interested in hopping aboard, you can create an account here:
https://signup.steemit.com/
Keep in mind that an account requires a small amount of Steem to exist and interact with the blockchain, and Steemit actually donates that to you when you create an account through them. For this reason, they need to verify you are a real person and that you haven't already made an account through them, so it can take several days before your new account becomes active.
---
This article is reposted from "The Wizard Life" by permission of Cahlen himself. He's a fulltime vandweller (OK, truckdweller), travelin' around the U.S. Southwest these days, among other impressive things. Check him out on Steemit.com, YouTube, Facebook, Twitter, Tumblr, and Minds.